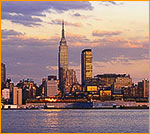 Commonwealth Worldwide offers a relaxing and refined way to travel between New York and Boston. With a pick up at your front door and drop off at your final destination, there is no concern about tickets, luggage, crowded gates, or being bumped. When traveling with Commonwealth you can focus on your presentation, plan a day of sightseeing, read the Wall Street Journal, or simply relax.



Surround yourself in comfort and enjoy the peace of mind that comes from traveling with the leader in luxury chauffeured transportation.



For more information please contact us at 800.558.5466 or send an e-mail with your inquiries to .