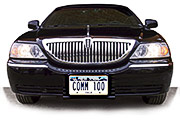 Commonwealth's exceptional levels of service extend to the maintenance of its vehicles. All Commonwealth vehicles are serviced every 3,000 miles, rather than every 5,000 suggested by the manufacturers, to ensure peak performance.



To keep the Commonwealth fleet as current as possible, vehicles are typically replaced every three years. We will be posting all of our vehicles for sale first on this website so check back frequently for new vehicles for sale!



All Commonwealth vehicles are black in color unless otherwise noted.


2005 Lincoln Town Car L-series Sedans Commonwealth features the L-series sedan because it is extended 6 inches to allow for increased legroom and greater passenger comfort. This vehicle is ideal for two or three passengers with minimal luggage. Several sedans available with approximately 70k miles. For vehicle pricing and further information please complete this form below and our Fleet Manager will contact you: