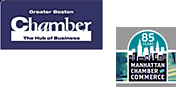 RECOGNITIONS:

Commonwealth's accomplishments have been acknowledged by the many recognitions bestowed, Among them:


Three-Time Winner of Boston magazine's Best of Boston award for "Best Car Service"


Three-Time Winner of ICIC-Inc. Magazine Inner City 100
2006, 2005, and 2004 winner of ICIC-Inc. Magazine 100 Fastest Growing Inner City Companies in the U.S.


Official Chauffeured Transportation of the Boston Symphony Orchestra

Preferred Chauffeured Transportation Company of The St. Regis Hotel, New York


Anthony Coviello Spirited Service Award - Joe Rucker



Massachusetts Lodging Association Award - Joe Rucker


WE ARE MEMBERS OF:


Greater Boston Chamber of Commerce is a broad-based association representing more than 1,700 businesses of all sizes from virtually every industry and profession in the Greater Boston region.



Manhattan Chamber of Commerce represents the voice of over 100,000 companies in Manhattan and partners with over 300 diverse business organizations.



(NYCBTA) New York City Business Travel Association provides an important forum for the exchange of information, education and ideas among its members, who include travel buyers from local corporations and senior relationship managers from leading travel industry suppliers.



(ACTE) Association of Corporate Travel Executives a 2,500-member international travel trade organization representing 37 countries.



(GBCVB) Greater Boston Convention & Visitors Bureau is a membership organization devoted to promoting and marketing Greater Boston as a visitor and meeting destination.



(ISES) International Special Events Society is comprised of over 3,000 professionals in over a dozen countries representing special event producers (from festivals to trade shows), caterers, decorators, florists, destination management companies, rental companies, special effects experts, tent suppliers, audio-visual technicians, party and convention coordinators, balloon artists, educators, journalists, hotel sales managers, specialty entertainers, convention center managers, and many more. ISES provides education and networking to its members to promote professionalism in the special events industry which benefits the consuming public.



(MLA) Massachusetts Lodging Association is to represent its active members as a trade alliance as well as to protect and further their business interests and general welfare. The Association's first commitment is to create and implement an aggressive program to develop the business and leisure travel industry in the Commonwealth of Massachusetts.



(MPINE) Meeting Professionals International of New England Chapter, the educational and networking association for New England meeting and event planners and suppliers. This web site has been redesigned to better serve our chapter of over 700 members, by offering the latest news and information about upcoming educational programs and other member benefits.



(NBAA) National Business Aviation Association, Inc. The National Business Aviation Association, Inc., based in Washington, DC, is a not-for-profit, nonpartisan 501(c)6 corporation dedicated to the success of the business aviation community. For more than 55 years, NBAA has served this community through its leadership efforts at all levels of government and business, both in the United States and worldwide.



(NBTA) National Business Travel Association - is a trade association dedicated to promoting the value of business travel management. The Association creates a direct connection between corporate travel buyers and suppliers, and serves as the leading source of information, education, and networking in the business travel industry.



(NEBTA) New England Business Travel Association is the voice of business travel management for New England.



(NLA) The National Limousine Association was founded in 1985 as a voluntary non-profit, tax-exempt organization responsible for and dedicated to representing and furthering the international, state and local interests of all aspects of the limousine industry. The association is comprised of resourceful business people, regional and state associations, coachbuilders and vendors. Its membership includes limousine owners and operators, manufacturers and suppliers.



(HSMAI) Hospitality Sales and Marketing Association International is a global organization of sales and marketing professionals representing all segments of the hospitality industry. With a strong focus on education, HSMAI has become the industry champion in identifying and communicating trends in the hospitality industry while operating as a leading voice for both hospitality and sales and marketing management disciplines. Founded in 1927, HSMAI is an individual membership organization comprised of nearly 7,000 members from 35 countries and 60 chapters worldwide. HSMAI's European Division consists of chapters in nine countries, with the largest representation in Norway.



SPONSOR OF:
(MPI) Meeting Professionals International Established in 1972, is the leading global community committed to shaping and defining the future of the meeting and event industry. As the largest trade association for the $102.3 billion meeting industry, MPI defines the return on investment and strategic value meetings bring to individuals, organizations and the global economy. MPI helps its members enhance their professional value by providing them with best practices, superior education, the latest research and trends, professional development and networking opportunities.



Corporate Responsibility:
Any successful company owes a debt of gratitude to the community that has helped support it. Commonwealth Worldwide is grateful to Boston and New York and has made many commitments supporting the arts, education, and human services. Among some of the organizations that we proudly support are: The American Heart Association, Dana Farber Cancer Center, Mass Audubon Society, The Joey Fund, The Salvation Army, Mass Society of the Prevention of Cruelty to Animals (MSPCA), and Childrens Hospital Fund.


~~~


Planning a cruise? Norwegian Cruise Line can help.



Commonwealth Worldwide is pleased to offer an exclusive service to our customers who move seasonally, Click here to learn more.



Les Clefs d'Or USA is the only national association of professional concierges in the United States. Canada and Mexico also have established Les Clefs d'Or associations, making North America a tri-country presence within UICH (Union Internationale des Concierge d'Hotels), the global umbrella organization.